Early last year, after a period of not writing anything, I whipped up this short little thing about a thousand words long. Took me an hour or two, but I was excited that I'd finally written something after many weeks of writing nothing at all. So I showed it off—"Look here now! I wrote this!" Problem was, it was a bit of a mess, and people were quick to let me know it.
(Learn that lesson early: Never show people first drafts!)
So I went back to the drawing board—which I knew I would, of course. I cut the original in half, added an additional 5,000 or so words, and a few months later emerged "Goddamn Electric," my very first zombie tale. And if you're wondering, yes, that title is a nod to the almighty
Pantera
.
Being a huge music fan, I love doing that sort of thing. There's also a
Ghoultown
connection to the story, though that was entirely unintentional. I named the protagonist Everett Sykes. It's the first name that popped into my head, and it was perfect. Then I remembered a little
Ghoultown
jam called "The Ballad of Everett Sykes." Whoopsie.
Anyway, long story shorter than it could be, "Goddamn Electric" has been accepted for
The Zombie Feed, Vol. 1
, a new anthology from
Apex Publications
. Check out the cover art and TOC below: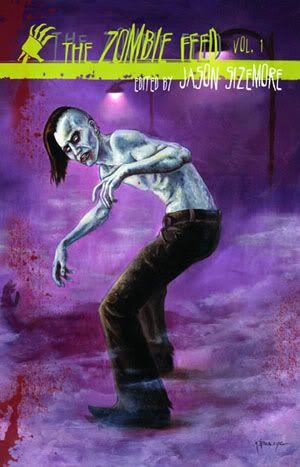 "Goddamn Electric" is my second sale, but my first pro (i.e. big) sale. Diggity! Sharing pages with
Lee Thompson
and newcomer
BJ Burrow
is pretty sweet as well. Tentative release date is late February, I believe.
Lastly, a few weeks ago I posted a free Christmas tale, "Streamer of Silver, Ribbon of Red," which takes place in Bridgetown, Massachusetts, the fictional location of "Goddamn Electric," and also features Little Jimmy Stanford, a character from "Goddamn Electric." If you're interested in reading it,
click here
. Little Jimmy fares a bit better in the holiday tale.
Anyway, here's to 2011, Year of the Wood. Haha.