Epitaphs: The Journal of the New England Horror Writers
, published by Shroud Publishing, is now available for purchase. This anthology features 26 stories and poems, including my sci-fi horror tale, "A Deeper Kind of Cold."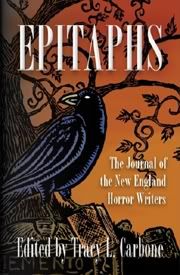 [ click photo to enlarge ]
The anthology was officially released at the first annual Anthocon, a kick-ass convention put on by Shroud, a few weeks ago. There was a panel and a very unorganized signing afterward. But we got it done. I bought and had signed five copies, one for me, three for friends, and one to give away in an upcoming
Shock Totem
contest.
[ click photo to enlarge ]
I had filmed the panel, which featured readings from each author at the table, but unfortunately the video somehow got corrupted. Alas...
In the foreword, Peter Crowther had this to say about my story:
L.L. Soares' "Holiday House" and K. Allen Wood's "A Deeper Kind of Cold" are cake mixtures lovingly blended in the literary kitchen... "House" being a mixture of nostalgia, ghosts and monsters (a sure-fire triptych in my view) while Wood's SF-cum-horror yarn is that rarity in that in makes you want to look away while you're actually reading it. This is Guignol at its Grandest.
Very kind words.
Anyway, I hope you'll consider
picking up a copy
. It's a really good anthology. Not just because I'm in it—which is indeed good for me—but because there is some really solid fiction within. I even liked much of the poetry. Go figure! It's also very reasonably priced at $12.99.
In addition to this story, I have another new story available. It's called "Streamer of Silver, Ribbon of Red," and can be found in
Shock Totem: Holiday Tales of the Macabre and Twisted
, a special digital-only issue for the holidays. I really like this story. It's dark but fun. It's probably not as good as the worst of what Dean Koontz has ever written, but I think I was channeling some of his kind of humor in this tale. Call it inspiration, me being a fan-boy and all.
Also, if you're a Kindle user, or have the Kindle app on your phone or PC, all other issues of
Shock Totem
are
now available in digital format
. They're priced from $0.99 to $1.99. You can basically buy every issue, including the holiday issue, for the cost of a single print issue! Get down!